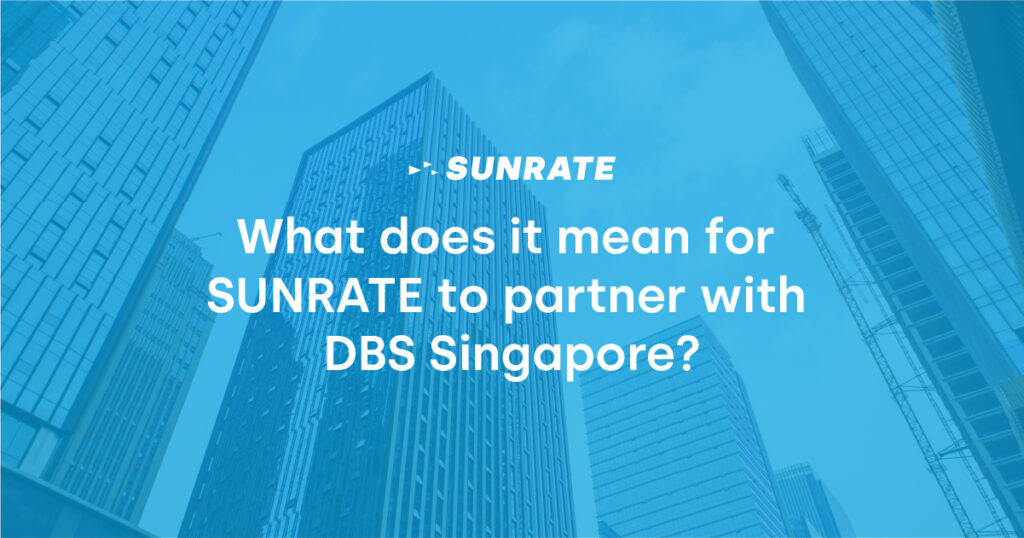 SUNRATE is proud to announce that we have successfully integrated with DBS Bank Singapore which will enhance our global banking networks and expand our capabilities regionally and locally. We have been partnering with DBS Hong Kong since 2018.
Currently, we are also working with global banks such as Citibank, Standard Chartered Bank and Barclays to power our global infrastructure which allows our customers to enjoy seamless international trade as they are connected to global and local clearing networks for lower transaction fees, better exchange rates and faster payment processes.
Our General Manager, Coco He shared, "As businesses scale in the Southeast Asia region, there is an increasing need to ensure that the connectivity we provide within the region is robust, supported by local networks. Singapore is an important trade hub for most global SMEs and integrating with DBS Singapore will provide that seamless payment experience and they can focus on more important matters."
Our successful integration with DBS Bank Singapore means that our customers can now transfer funds dominated in all supported foreign currencies (other than SGD) into our SUNRATE multi-currency virtual account without having to pay telegraphic transfer (TT) fees. This will bring about tremendous cost savings for our customers, in addition to enjoying high security (Sunrate Pte. Ltd. is a Major Payment Institution licensed by the Monetary Authority of Singapore (MAS) to provide services including Account Issuance, Domestic Money Transfer, Cross-border Money Transfer, Merchant Acquisition and E-money Issuance), as they utilise our platform to execute global business payments to stakeholders in their ecosystem.
SUNRATE is an intelligent global payment and treasury management platform for businesses worldwide. Since its inception in 2016, SUNRATE is recognised as a leading solution provider and has enabled companies to operate and scale both locally and globally in 150+ countries and regions with its cutting-edge proprietary platform, extensive global network, and robust APIs.
With its global headquarters in Singapore and offices in Hong Kong, Jakarta, London and Shanghai, SUNRATE partners with the top global financial institutions, such as Citibank, Standard Chartered, Barclays and is the principal member of both Mastercard and Visa.