Integration with ChatGPT - loads of companies have integrated it into their respective platforms. While Twitter took 2 years, Meta (formerly known as Facebook) took 10 months, and ChatGPT only took 5 days to grow from 0 to 1 million users. Stakeholders from the tech industry have been competing and chasing each other in terms of adoption. Recently, that has not been only centered around tech - even traditional industries from global trade have also caught on with the wave - such as integrating ChatGPT into their processes, to assist them in optimising operations, cost reduction, and increasing efficiency.
In order to fully empower brands to achieve their breakthrough and to go global, SUNRATE has quickly responded to market demands and has officially integrated ChatGPT technology, by officially launching the TreasuryOS GPT marketing tool.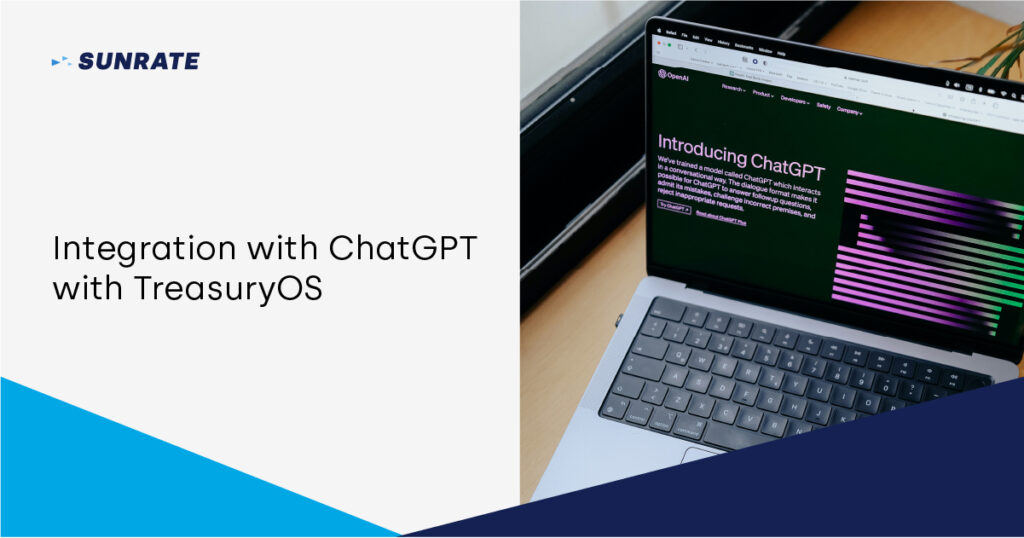 The TreasuryOS GPT
The TreasuryOS GPT is an online marketing tool that is efficient and intelligent, allowing:
- One-click generation of development letters and product tweets
- Precise multilingual content creation
For global trade companies, writing promotional content through marketing emails and posting product tweets through different channels are the "stepping stones" to expanding their overseas customers. However, writing a massive amount of foreign language copy that meets the preferences of overseas users often requires a lot of time and effort. The TreasuryOS GPT is a marketing tool that can intelligently generate promotional content/product tweets with one click based on the product names and descriptions entered by the business improving text creation efficiency and saving labour costs.
1. Multiple scene matching with high language processing quality
Based on deep learning natural language processing technology, the TreasuryOS GPT tool supports writing emails for different business scenarios and purposes, and generates customer promotion copies commonly used by globe trade businesses, such as promotional content and product tweets for businesses on demand. Based on the pre-input product information of the business, the AI algorithm can quickly generate professional, smooth, and easy to understand high-quality text content that is not only targeted and attractive but also more in line with market demand. Moreover, the more detailed the product description entered, the richer the copy content generated by the TreasuryOS GPT will be.
2. One click automatic generation, doubling and improving operational efficiency
The TreasuryOS GPT interface is clear and easy to operate. Users only need to input the product name, the generated language required, and the product description to automatically generate text content with one click. It also supports full text bilingual comparison, quickly optimising the marketing and creative processes for foreign traders, reducing the manual writing time.
3. Efficient generation of multilingual copy content that is professional and precise
The TreasuryOS GPT supports the generation of 10 different languages, including English, Spanish, French, Arabic, Russian, Portuguese, Indonesian, German, Japanese, Korean, etc. The quality of content creation in small languages is industry-leading, with accurate copywriting. After in-depth training, the system can optimise and correct non-standard languages, such as spoken language and abbreviations in emails, making the content more professional and in line with local reading habits, breaking language barriers, and accelerating the global development of enterprises.
Register today with SUNRATE to experience the newly launched TreasuryOS GPT, or email us at marketing@sunrate.com to get started!