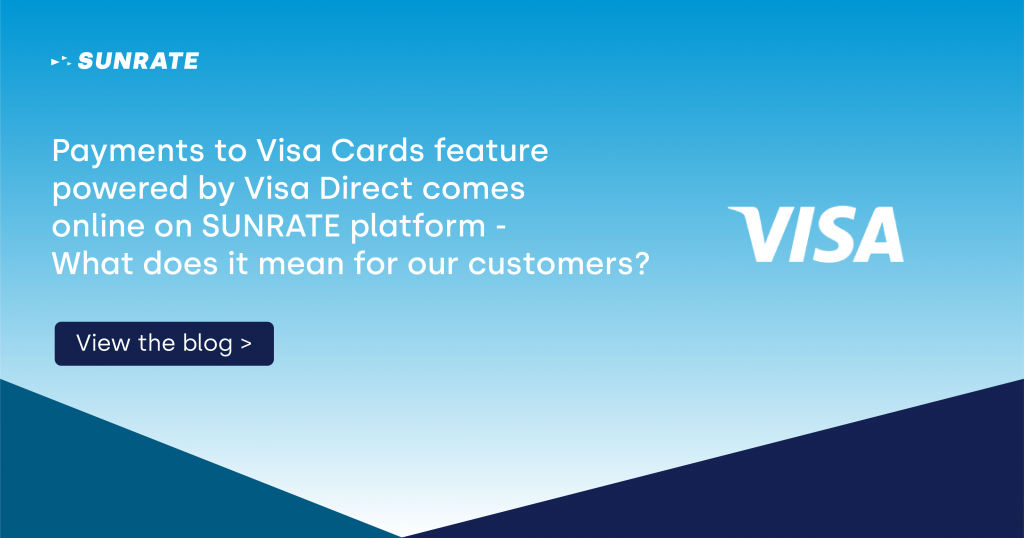 As announced in June 2023, SUNRATE is officially launching a new Payments to Visa Cards feature, powered by Visa Direct. SUNRATE can now support payments in more currencies and to more countries/regions, further upgrading its global payments capabilities, and helping businesses meet their cross-border B2B payment needs.
In the current era of accelerating economic globalisation and digitisation, the scale of global trade continues to expand, while simultaneously, business volume also continues to rise. This results in a sharp increase in the demand for money movement services provided by payment service providers. SUNRATE, the intelligent global payment and treasury management platform is continuously improving its international payment and collection capabilities and collaborating with numerous global partners to build cutting-edge products and services.
1. Covering major global markets and achieving batch payment capability
Through our new platform feature, businesses can make payments directly to Visa cardholders in up to 39 countries/regions such as Europe, Asia, and Australia in their local currency, thus efficiently integrating local payment networks in major global markets. Post verification of supporting documents, funds can reach the cardholder within a day.
Moreover, businesses can make payments to multiple Visa cardholders simultaneously by initiating a batch payment instruction on our platform. This not only saves manpower, time, and resources but also significantly improves operational efficiency for businesses. The convenience of making multiple payments at once, coupled with the speed of transaction, makes our platform a game-changer in the global business payment landscape.
2. Multiple local currencies and global payment (capabilities) enhancements
Visa Direct brings about multiple local currency payment capabilities to our platform (and in turn, to our customers), covering mainstream countries in the European and American region, including emerging markets in Southeast Asia (up to 16 currencies including EUR, AUD, NZD, HKD, IDR, SGD, MYR, PHP, VND, THB, etc). This enables SUNRATE to provide businesses with a smoother and lower cost payment experience and continuously optimising both global and localised service capabilities.
3. Multiple business scenarios, flexible to diverse needs
This new feature powered by Visa Direct will allow our platform to support emerging fields and industries such as online education, international MCN, and online content platforms – which is an important breakthrough for us given that we are well-recognised in supporting B2B payment needs of global trade and cross-border e-commerce.
4. Bank level compliance and security
SUNRATE adheres to relevant regulatory requirements. We are licensed and regulated in multiple jurisdictions. We have established a comprehensive, high standard compliance risk control system to ensure the security of business information and funds.
If you want to explore this new feature that is powered by Visa Direct for your business payments, do reach out to us at marketing@sunrate.com, or to your dedicated business development representative.

Find our Bloomberg coverage here.