The pandemic had a significant influence on the travel industry, which resulted in an estimated loss of a staggering $4 trillion (back in 2020). The different virus variants repeated the entire process of travel restrictions after things had largely recovered from their previous course, causing considerable disruption.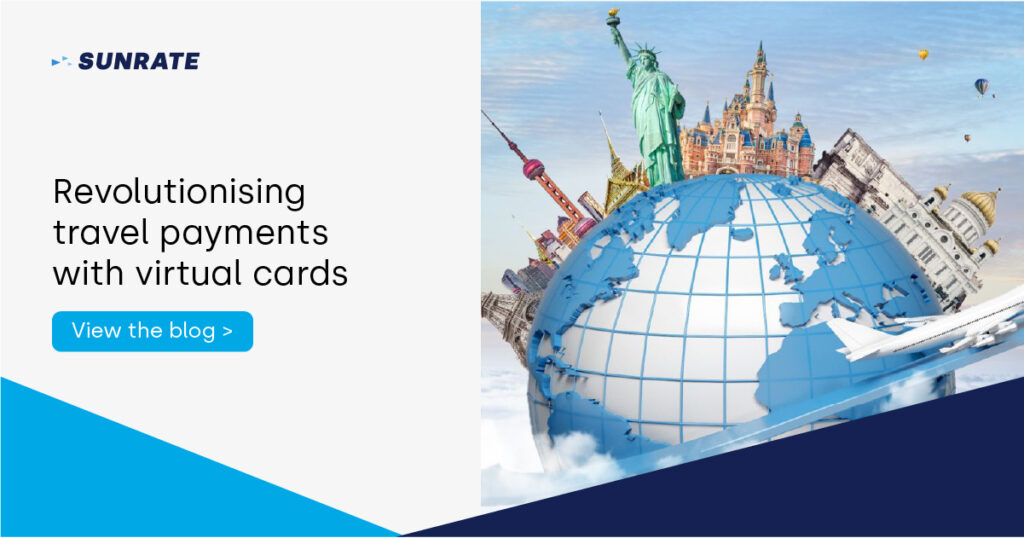 While countries are starting to open up, there is still some degree of ambiguity surrounding global events, necessitating the development of new digital payment techniques that are future-proofed against rapidly changing technology. From our understanding on the ground, up to twenty percent of an agency's profit margin is typically lost due to needless payment-related expenses including time spent on reconciling bills. The use of virtual cards reduces costs and offers peace of mind because there is less chance of fraud as a result of security measures.
In comparison to sluggish legacy systems, advanced online travel agencies (OTAs) are shifting towards global payment solutions that are streamlined, automated, and cost-effective. A crucial element of this transformation are virtual travel cards, which have all the same requirements as physical cards but are produced electronically.
Much like their physical counterparts, virtual travel cards serve as versatile financial instruments that can be linked to a company's multi-currency account, rendering them ideal for travel payments or B2B payments involving foreign vendors, suppliers, and service providers.

Furthermore, virtual travel cards contribute to the cultivation of a more efficient and effective financial management ecosystem. By automating international payment workflows and eliminating manual reconciliation, finance teams can conserve valuable time and resources, ultimately resulting in heightened operational efficiency.
Why should Online Travel Agencies (OTAs) issue virtual cards
Virtual cards have been eagerly adopted within the framework of the travel sector. In fact, on the ground, the majority of stakeholders in the travel sector have reached a consensus that virtual cards are poised to become a necessary mode of payment for cross border transactions in the foreseeable future.
Before a card is issued, a firm can easily set spend limits, define usage, and choose the vendor using a virtual card. This gives finance departments entire control over how spending are allocated and tracked.
Additionally, the card can be automatically revoked after the vendor has been paid to make sure that no one can obtain the card number, reuse it, or have the invoice paid for a higher sum than what was predetermined. Additionally, as all transactions are electronic, this allows for real-time monitoring of charges and simple integration with accounting software. Real-time tracking of cross border payments and other travel expenses lowers the likelihood of fraud and credit card abuse.
Finally, it is to note that the virtual card's security is a major feature; according to Juniper Research, it was predicted that fraud losses would exceed $343 Billion globally in the next 5 years. Web portals and APIs can be used to build virtual cards, giving users control over the expiration dates and approved amounts. It eliminates the possibility of card information being abused when given to a merchant while on a business trip by providing a limited window of use for a single card.
Important fact: SUNRATE is certified to the international financial data security standard: Payment Card Industry Data Security Standard (PCI DSS) Level 1 and we provide direct issuance to corporate clients and direct settlement via card schemes such as Mastercard and Visa.
Establish a global travel payment system with SUNRATE's online travel solution
Choosing a leading provider in payment and treasury management helps you manage funds more clearly in a post-pandemic world. With unmatched control, visibility, and efficiency, SUNRATE's online travel solution offers a new, streamlined approach to travel payments.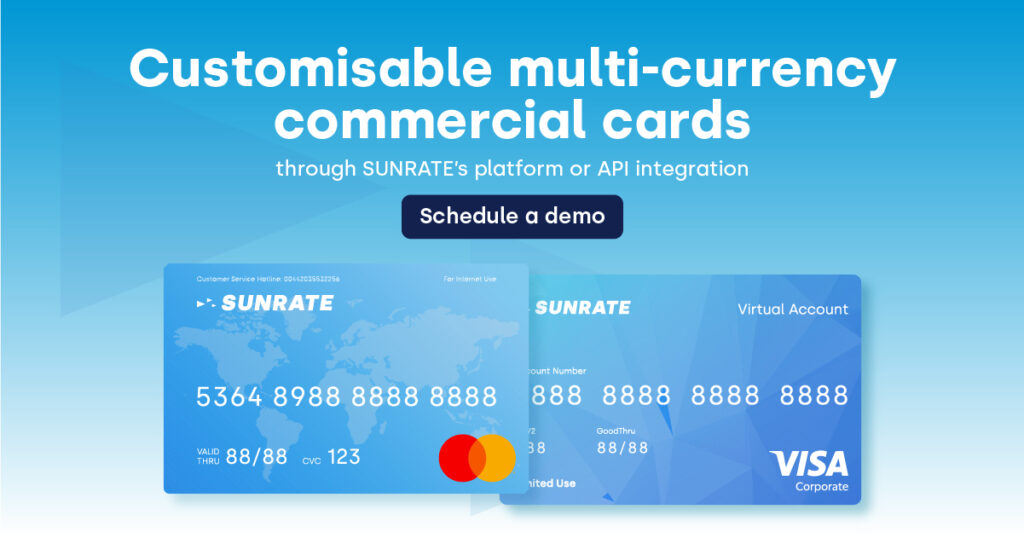 With SUNRATE's online solutions, our virtual cards have proven their ability to innovate and provide peace of mind while processing local or international payments:
You can facilitate real-time and batch virtual cards issuance using our platform and APIs;

You can set your own card limits and expiration dates;

You can use single and multiple cards with easy account reconciliation;

and we support major global currencies including USD, EUR, GBP and AUD.
You can find us at ITB Asia 2022 (exhibition booth J45), happening at Marina Bay Sands, Singapore from 19 - 21 October 2022 to find out more about our product.