Choosing the right B2B payment service provider is a critical decision for all businesses. With so many options available, it can be challenging to navigate the features, costs, and security standards of different providers. One effective way to evaluate potential providers is to ask the right questions. In this article, we will explore the top 4 questions to ask any B2B payment service provider. These questions will help businesses assess the provider's capabilities, security, compliance, and customer service, ultimately allowing businesses to make informed decisions and choose the best provider for business needs.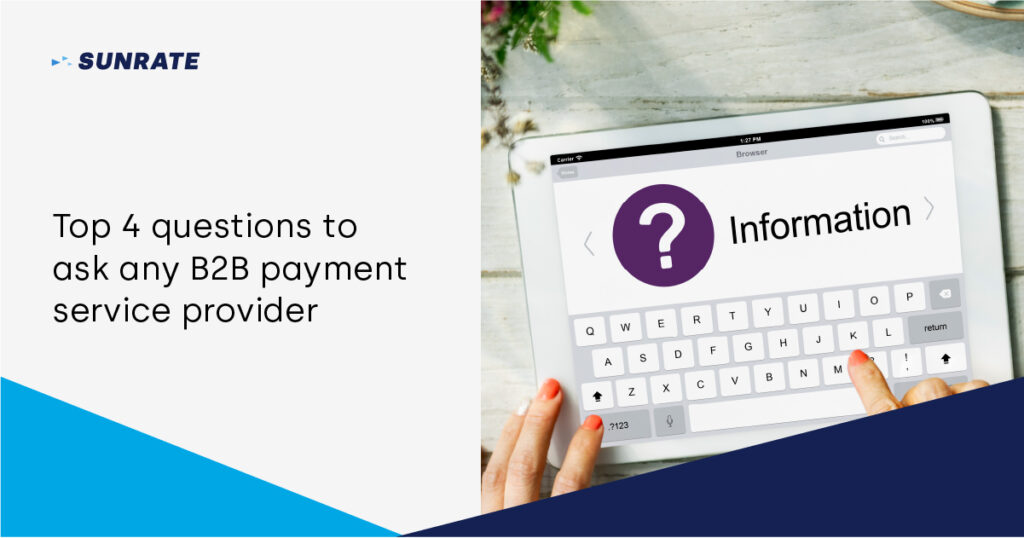 The top 4 questions to ask any B2B payment providers:
1. What types of payment methods does the service provider offers?
When selecting a B2B payment provider, it is important to understand the payment methods that are available. Each payment method has its advantages and disadvantages in terms of fees, processing times, and security standards. Therefore, asking the provider about the types of payments they offer can help determine whether they meet businesses' needs.

Some common payment methods offered by B2B payment service providers include wire transfers, ACH transfers, cards, and digital wallets. Wire transfers are a secure and fast way to transfer funds, but they are often more expensive than other payment methods. ACH transfers are more cost-effective and allow for automated recurring payments, but processing times can be slower.
Cards, specifically commercial cards are widely accepted and offer some form of rewards such as cashbacks, but traditionally, they have higher fees as compared to other payment methods (but not all the time). Digital wallets also offer convenience and ease of use but may have lower limits for transaction amounts.
By understanding the payment methods available, businesses can evaluate which one is best suited for their business and its cash flow requirements. This information can help businesses make informed decisions and ensure that their payment needs are met.
2. Can the service provider provides real-time tracking and reporting of transactions?
When selecting a B2B payment provider, it is also important to consider whether they offer real-time tracking and reporting of transactions. This feature can provide businesses with visibility into payment activity, enabling the capability to track and reconcile payments quickly and easily.
When asking about real-time tracking and reporting, businesses can determine whether their payment platform provides the level of visibility needed. Some providers offer transaction monitoring tools that allow businesses to view payment status, payment history, and payment details. Additionally, some providers may offer customised reporting features that allow businesses to track payment trends, such as payment volumes or payment types.
Real-time tracking and reporting can help identify and address payment issues promptly, which can be especially important for businesses that have high transaction volumes or complex payment processes. This feature can also help improve cash flow management by providing timely information about incoming and outgoing payments.This helps to ensure that payment service providers can provide the level of visibility and reporting needed to effectively manage payment processes.
3. How reliable is the service provided and the support?
Another critical factor to consider when selecting a B2B payment provider is their reliability and support. Payment processing is a critical aspect of business operations, and any issues or delays can have a significant impact on cash flow and overall business performance.
Therefore, it is important to ask the provider about their reliability and support. Some questions to ask include their uptime statistics, the frequency of system maintenance, and their disaster recovery plan. Additionally, it is essential to understand their support options and response times, especially for critical issues or outages.
By understanding their reliability and support, businesses can assess their ability to meet businesses' needs and minimise any potential downtime or disruptions. Additionally, understanding their support options can help instill confidence that issues can be quickly resolved should any arise. This is essential for ensuring smooth payment processes and minimising any potential disruptions to business operations.
4. What level of security does the service provider have in place to protect transactions?
Security is another critical consideration when selecting a B2B payment provider, as payment processing involves sensitive financial information. Therefore, it is important to ask the provider about the level of security they have in place to protect transactions.
Some questions to ask may include what types of security protocols they use, such as encryption, firewalls, or multi-factor authentication. Additionally, it is important to ask about their compliance with industry standards and regulations, such as PCI DSS, which governs card transactions.
By understanding their security protocols, businesses can assess their ability to protect sensitive financial information and minimise the risk of data breaches or other security threats. It is also important to understand any potential liability for fraudulent or unauthorised transactions and to ensure that the provider has measures in place to address these issues.
Additionally, from a regulatory perspective, SUNRATE is licensed and regulated by numerous regulatory bodies such as the Financial Conduct Authority of the UK, the Bank Indonesia, the Hong Kong Customs as a Money Service Operator, and the Monetary Authority of Singapore as a Major Payment Institution.
This will ensure that the payment provider has robust security protocols and compliance with industry standards can help protect businesses and their customers' financial information.
Conclusion
When selecting a B2B payment service provider, it is important to consider businesses' unique requirements and priorities, such as the types of payments to-be processed, the software used, and security and compliance needs. By doing research and asking the right questions, businesses can select a provider that meets their business' needs and maximise efficiency and productivity.
Why SUNRATE could be the perfect payment service provider for your business
SUNRATE is an intelligent global payment and treasury management platform for businesses worldwide. Since its inception in 2016, SUNRATE is recognised as a leading solution provider and has enabled companies to operate and scale both locally and globally in 150+ countries and regions with its cutting-edge proprietary platform, extensive global network, and robust APIs.
With SUNRATE, businesses worldwide can:
Make payments to 150+ countries almost instantly with no hidden fees or exchange rate markups;

Enjoy our smart networking routing which facilitates business payments in the most efficient manner;

Use our customisable verification models that come with enhanced security protection - all our transaction instructions and AOI transmission are highly encrypted;

Utilise our fully digital processes which allow quick activation of collection services at a click of a button, allowing businesses to efficiently manage cash flows with an ease of global reconciliation, while also giving real-time visibility of all transactions.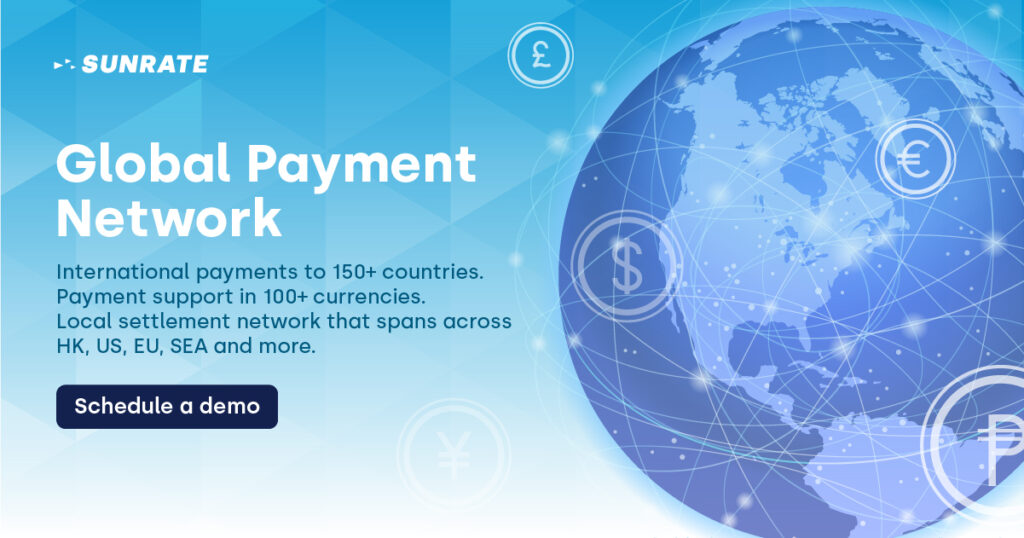 To find out more about how SUNRATE can scale your business and help you connect with new stakeholders, connect with us today.