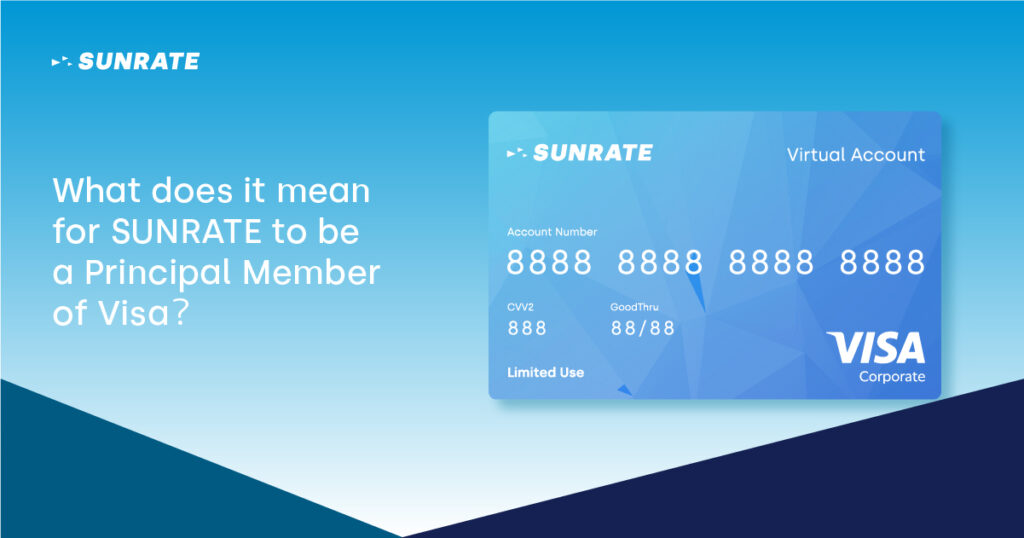 Not many stakeholders know this, but since 2021, SUNRATE had been a Principal Member of the Visa network, a world leader in digital payments, to further our commitment to offering intelligent global payment and treasury management solutions for businesses worldwide. With this membership, it provided a huge boost to SUNRATE's direct card issuance capabilities, in addition to using Visa's network for cross-border international transactions network.
The 2021 acquisition of Visa's certification underlined SUNRATE's dedication to providing best in-class services to its expanding global customer base. Our clients benefit from a quick, easy and integrated approach to handle their funds and carry out regular cross-border international transactions, resulting from direct participation in the Visa network.
It is significant to note that in order for SUNRATE to be granted Principal Membership in the Visa network, we had to pass a multidisciplinary audit carried out by Visa to confirm that we complied with all relevant operational and legal standards. Along with already being certified to the international financial data security standard: Payment Card Industry Data Security Standard (PCI DSS) Level 1, which guarantees the high calibre, transparency, and robustness of SUNRATE's payment security systems, the Principal Membership of the Visa network is an important accreditation to affirm our credibility.
"Since the inception of SUNRATE in 2016, becoming a Principal Member of the Visa network has been one of our top strategic priorities. When it comes to meeting the rising demand for seamless, scalable, and accessible cross-border international payment solutions, SUNRATE's acquisition of Principal Membership places it in a special position. SUNRATE - recognised as the leading provider of global cutting-edge payment and treasury management solutions, aims to empower even more SMEs, especially those from emerging markets. This is on top of our milestone of enabling companies in 130+ countries with our proprietary platform, extensive network, and robust APIs to scale both globally and locally," shared Paul Meng, co-founder, SUNRATE.
"The card issuance business is a key vertical that we are focusing on as part of our strategic global expansion plans into the SEA region. We observed that cards are effectively transforming the B2B payment landscape as businesses worldwide are starting to appreciate the efficiency and security that cards bring. Interestingly, cards can also unlock new revenue streams for businesses, on top of cost savings which makes it an attractive payment option, especially for industries such as travel and digital marketing / media agencies," shared Coco He, General Manager, SUNRATE.
Our virtual cards have proven their ability to innovate and provide peace of mind while processing card-related payments:
You can facilitate real-time and batch virtual cards issuance using our platform and APIs;

You can set your own card limits and expiration dates;

You can create single and multiple use cards with easy account reconciliation;

and we support major global currencies including USD, EUR, GBP, SGD and JPY.
It is also important to note that SUNRATE is also certified to the international financial data security standard: Payment Card Industry Data Security Standard (PCI DSS) Level 1.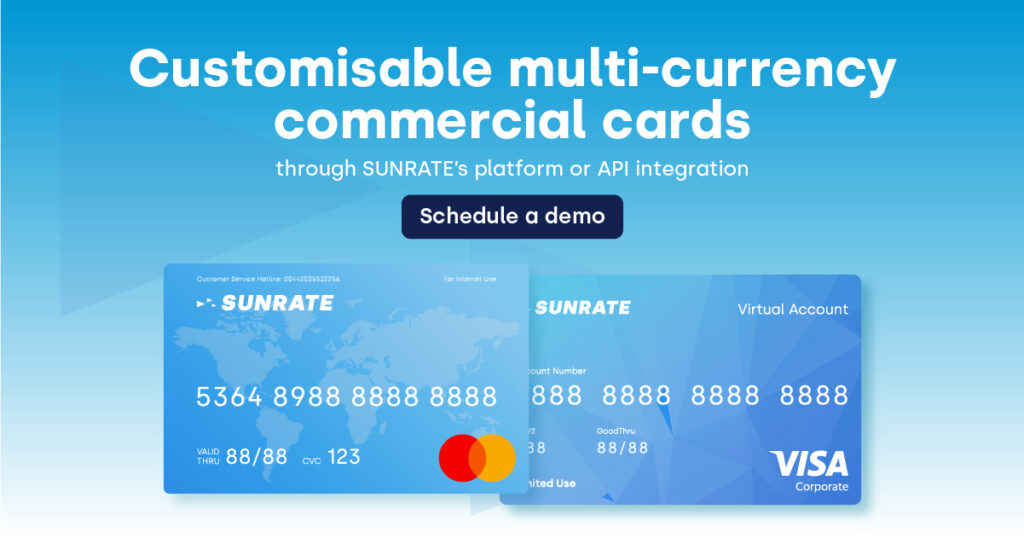 Find out more about how SUNRATE can revolutionise payments via cards issuance for you by speaking with our specialists today.