Business payments are an integral part of the B2B cross-border space, enabling businesses to operate on a global scale and expand into new markets. However, the complexity of cross-border payments can create significant challenges for B2B organisations.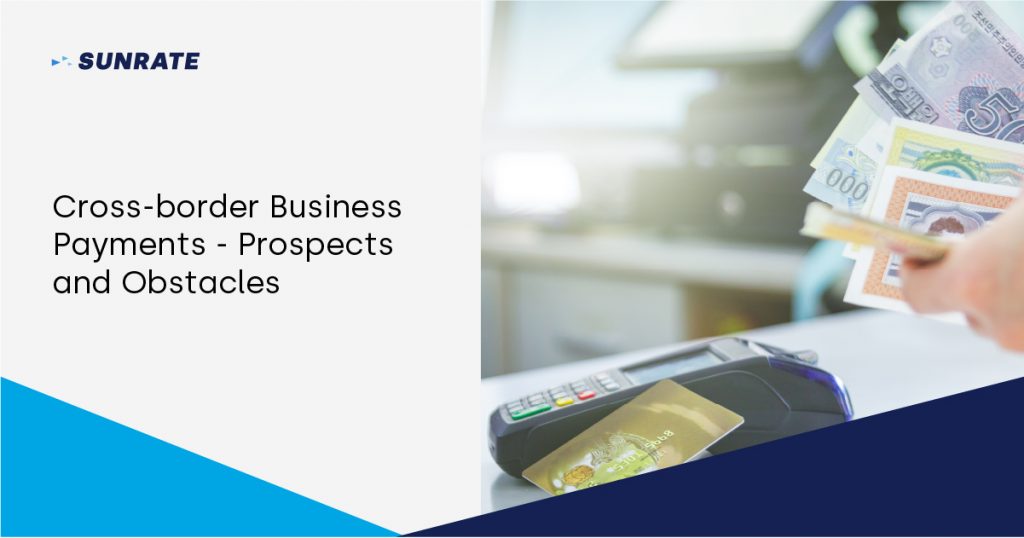 Importance of cross-border payments in the B2B space
Cross-border payments are important in the B2B space, as they allow businesses to engage in international trade and expand their reach beyond domestic markets. The ability to send and receive payments across borders is critical to enabling global business operations, facilitating supplier payments, and accessing new markets.
For B2B organisations, cross-border payments help to streamline their supply chains and enable them to source products and services from around the world. Cross-border payments can also help mitigate currency risk and provide cost savings through competitive exchange rates.
Challenges and opportunities in cross-border payments within the B2B space
Cross-border payments also come with significant challenges and opportunities, such as:
1. High transaction fees and exchange rates
When making non-cash payments, additional costs may arise. In cross-border payments, payee entities traditionally need to provide upfront funds to access foreign currency and initiate the transaction. The more entities involved, the higher the bank fees charged, which can be passed on to the purchaser. Furthermore, foreign exchange rates are subject to fluctuations, creating potential deficits for both buyers and sellers if the rate changes between transaction initiations.
Traditional cross-border payment systems have been associated with high fees and unfavourable exchange rates, which can significantly impact a business's bottom line. However, new payment technologies, such as digital wallets and blockchain-powered platforms, have disrupted the market and made it possible for businesses to access lower transaction fees and more favourable exchange rates. Moreover, increased competition among payment providers has led to a reduction in fees and enhanced transparency, enabling businesses to choose payment solutions that are most cost-effective and align with their financial goals. By accessing lower transaction fees and exchange rates, businesses can maximise their financial resources and improve their competitiveness in the global market.
2. Compliance and regulatory issues
Cross-border transactions also involve various risks, and compliance checks are necessary to prevent financial crimes, fraud, and sanctions. However, these checks can be time-consuming, leading to unnecessary payments being declined. Rules and processes vary between banks and payment gateways, resulting in declined payments due to customers sharing names with individuals with financial criminal records. Additionally, payments passing through domestic bank systems may be subject to unique checks depending on jurisdiction, causing further complications before reaching international borders.
3. Lack of transparency and visibility
Lack of transparency and visibility is a significant challenge in cross-border payments within the B2B space. Businesses often struggle to track the status of their payments, including when funds have been transferred and when they will arrive. This lack of visibility can cause delays in business operations, create cash flow issues, and impact customer relationships. Moreover, the opaque nature of cross-border payment systems can make it difficult for businesses to identify errors, track expenses, and reconcile accounts. As a result, B2B organisations need to work with payment providers that offer real-time tracking and reporting to enhance visibility and transparency.
Advancements in payment technologies have made it possible for businesses to gain real-time visibility into their cross-border transactions. These technologies include real-time payment systems, which offer increased transparency and real-time reporting. This enhanced visibility enables businesses to track their expenses, reconcile accounts more efficiently, and identify any payment errors promptly. By accessing enhanced transparency and visibility, businesses can improve their financial management, enhance their decision-making capabilities, and reduce the risk of fraud or financial
4. Increased speed and efficiency of cross-border payments
One of the opportunities presented by cross-border payments in the B2B space is the increased speed and efficiency of transactions. Technological advancements have made it possible for businesses to make international payments faster and with greater ease than ever before. These advancements include blockchain technology, which enables near-instant cross-border payments without the need for intermediaries. Additionally, the adoption of real-time payment systems and digital wallets has significantly reduced the time and cost associated with cross-border transactions. The increased speed and efficiency of cross-border payments provide businesses with the ability to make faster, more informed decisions, improve cash flow, and expand their global footprint.
What SUNRATE can do
SUNRATE is the intelligent global payment and treasury management platform for businesses worldwide. Since its inception in 2016, we are recognised as the leading solution provider and have enabled companies to operate and scale both locally and globally in 150+ countries and regions with our cutting-edge proprietary platform, extensive global network, and robust APIs.
With SUNRATE, businesses worldwide can:
Make payments to 150+ countries almost instantly with no hidden fees or exchange rate markups;

Enjoy our smart networking routing which facilitates business payments in the most efficient manner;

Use our customisable verification models that come with enhanced security protection - all our transaction instructions and AOI transmission are highly encrypted;

Utilise our fully digital processes which allow quick activation of collection services at a click of a button, allowing businesses to efficiently manage cash flows with an ease of global reconciliation, while also giving real-time visibility of all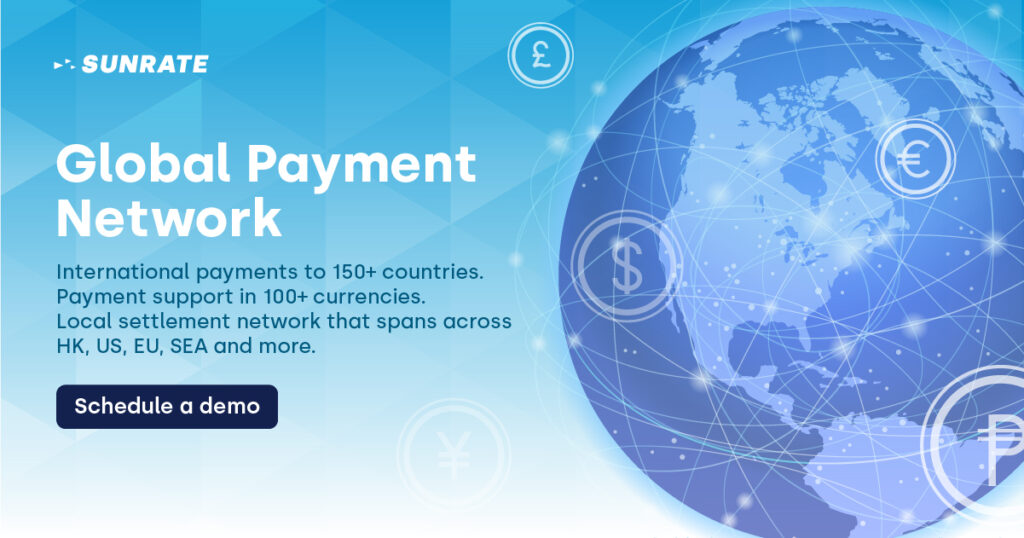 With its global headquarters in Singapore and offices in China, Indonesia and UK, SUNRATE partners with the top global financial institutions, such as Citibank, Standard Chartered, Barclays, DBS Bank and is the principal member of both Mastercard and Visa. We are licensed and regulated by the Financial Conduct Authority of the UK, the Bank Indonesia, the Hong Kong Customs, and the Monetary Authority of Singapore.
To find out more about how SUNRATE can scale your business and help you connect with new stakeholders, connect with us today. Should you have any enquiries, do drop us an email at marketing@sunrate.com.