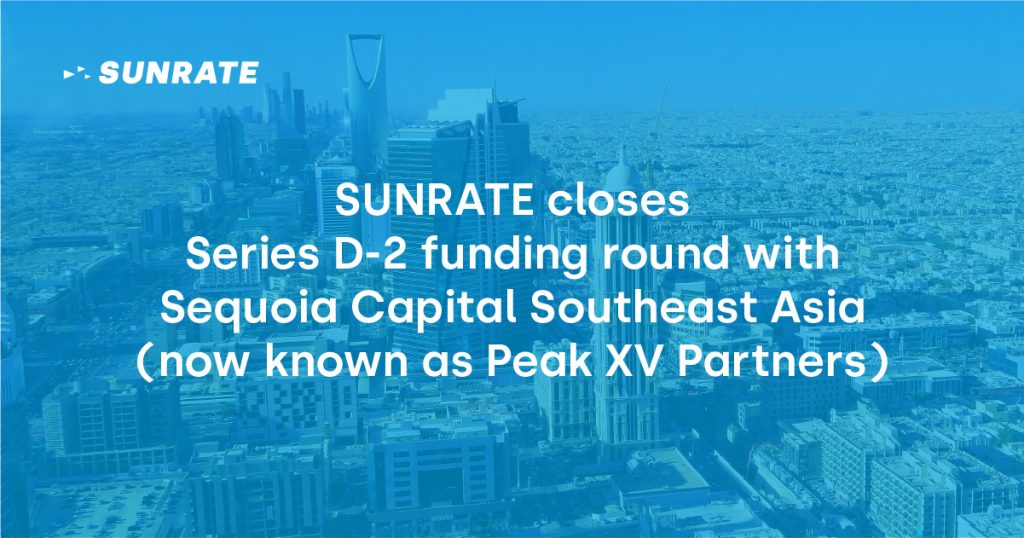 SUNRATE, an intelligent global payment and treasury management platform announced today that it has raised an extended Series D (Series D-2) funding round from Sequoia Capital Southeast Asia (now known as Peak XV Partners). Prosperity7 Ventures and Softbank Ventures Asia also contributed to the round.
The funding will enable SUNRATE to accelerate its global expansion plans by driving innovative development of its technologies, deepen cutting-edge products and services, hire top industry talent and also provide the flexibility to explore additional strategic opportunities.
SUNRATE provides global payment products and services for businesses worldwide, including international payments, global collection, commercial card issuance and treasury management. Businesses can make payments to more than 190 countries and transact in more than 130+ currencies. They also enjoy global collection services available in over 30 currencies, collect funds in over 10 major global currencies (as if they were local payments), and settle card spends in more than 15 currencies. As part of SUNRATE's global vision to drive B2B digitalisation, it also offers effective treasury management tools such as TreasuryOS and RiskOS, to enable businesses to manage and oversee their financial assets, liabilities, and liquidity.
Paul Meng, Co-Founder at SUNRATE said, "We started SUNRATE with the modest goal of bettering the payments experience of small to medium-sized businesses ("SMBs"). Through the years, we have witnessed first-hand how our products and services have benefited businesses; by providing fast secure transactions, high-touch customer service as well as lower and transparent costs. Having prestigious investors like Peak XV Partners come onboard this journey with us is testament to our efforts and performance – in cementing ourselves as the go-to leading global cross-border B2B payment platform in emerging markets. By removing business payments friction and helping businesses to digitalise, SUNRATE empowers businesses — helping them to scale across borders seamlessly and effectively."
In the last year, SUNRATE's business has significantly scaled and achieved great momentum across emerging markets. SUNRATE intends to use funds from this round to accelerate growth in the emerging markets, such as Southeast Asia and India, and continue to onboard new customers globally.  The company will continue to bring in top talents to match its overall global growth trajectory.
Abheek Anand, Managing Director at Peak XV said, "Cross-border business payments serve as a vital foundation for the multi-trillion dollar global trade market. SUNRATE has built a proprietary global payment network and a diverse product portfolio to provide fast, compliant, and low cost payment capabilities to customers across multiple markets in Asia. We're excited to partner with the team as they continue to expand rapidly and sustainably as the emerging market leader in this massive category."
The influx of investment is timely when the emerging market opportunities for SUNRATE in global cross-border B2B and card payments are still expanding at a rapid pace. According to FXC Intelligence, the global B2B cross-border payments market is expected to total US$56.1 trillion in volume by 2030.
About SUNRATE
SUNRATE is an intelligent global payment and treasury management platform for businesses worldwide. Since its inception in 2016, SUNRATE is recognised as a leading solution provider and has enabled companies to operate and scale both locally and globally in 190+ countries and regions with its cutting-edge proprietary platform, extensive global network, and robust APIs. With its global headquarters in Singapore and offices in Hong Kong, Jakarta, London and Shanghai, SUNRATE partners with the top global financial institutions, such as Citibank, Standard Chartered, Barclays and is the principal member of both Mastercard and Visa. To learn more about SUNRATE, visit https://www.sunrate.com/
About Peak XV Partners (Formerly Sequoia Capital India & SEA)
Peak XV Partners (formerly Sequoia Capital India & SEA) is a leading venture capital and growth investing firm investing across India, Southeast Asia and beyond. Peak XV (pronounced Peak Fifteen) was the name used for Mount Everest before it was called that. It embodies everything we believe about building long-lasting businesses that stand tall and inspire greatness.
Over the last 17 years of our operations in the region, Peak XV has grown to manage over USD 9 billion in capital across 13 funds and invested in over 400 companies. To know more, check out peakxv.com.
Important note: This press release shall not constitute an offer to sell or a solicitation of an offer to buy, nor shall there be any sale of securities of SUNRATE in any jurisdiction in which such offer, solicitation or sale of these securities would be unlawful prior to registration or qualification under the securities laws of any such jurisdiction.