In today's global economy, international payments have become a common occurrence for businesses, whether transferring funds to suppliers, paying for services abroad, or receiving payments from overseas clients. However, these transactions can also come with significant costs, such as high fees and unfavourable foreign exchange rates. To help individuals save on these expenses, we have compiled a list of the top five ways to reduce costs and save money when conducting international payments.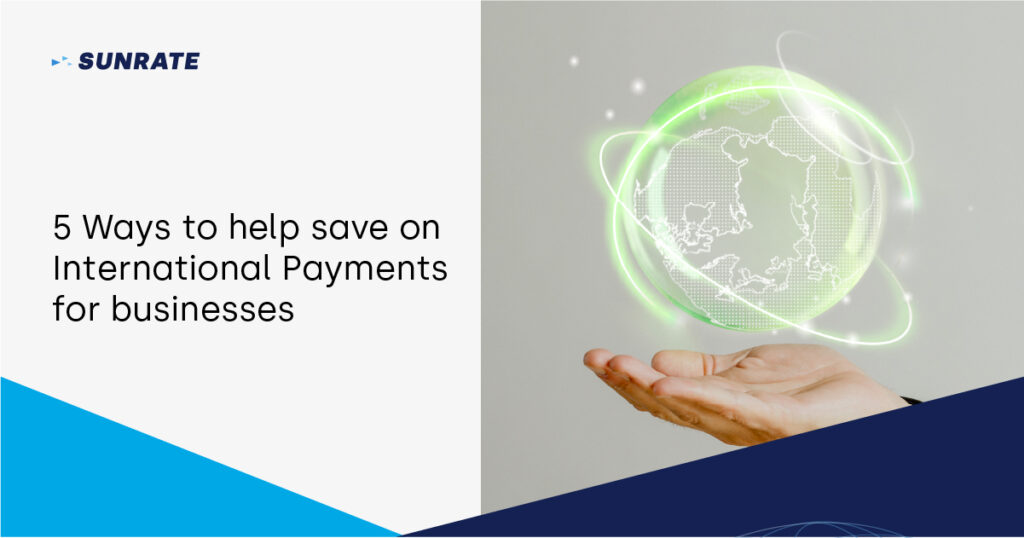 Here are 5 tips for businesses:
1. Compare fees and exchange rates.
Different financial institutions and money transfer services offer varying fees and foreign exchange rates, and selecting the most cost-effective option could lead to significant savings. When comparing fees, it is essential to consider both the transaction fees and any other charges that may apply, such as intermediaries' fees, foreign currency conversion fees, or receiving fees. These fees can vary widely between payment service providers, and some may offer lower fees or even free transfers for larger transactions.
Exchange rates can also have a significant impact on the overall cost of international payments. The foreign exchange rates can fluctuate based on market conditions, geopolitical events, and economic factors. Financial institutions and money transfer services may offer different exchange rates, and choosing a payment service provider offers favourable exchange rates can help save money.
To compare fees and foreign exchange rates, it is advisable to research and compare multiple providers before selecting one. Many comparison websites and tools can help businesses compare fees and exchange rates for different providers. Additionally, some providers may offer promotions or discounts, so be sure to check for any available offers.
2. Choose the right payment method.
Different payment methods come with different fees, processing times, and currency conversion rates. By selecting the appropriate payment method, businesses can save on fees and reduce their overall transaction costs.
One payment method to consider is bank transfers. Bank transfers offer a direct and secure way to send money internationally, and they often come with low or no fees. However, they may have longer processing times and unfavourable exchange rates, depending on the number of stakeholders involved in the transaction.
Another payment method to consider is digital wallets. These services offer faster processing times, lower fees, and competitive exchange rates. Digital wallets also allow for more flexibility and convenience, as they can be accessed from anywhere with an internet connection.
Cards, specifically commercial cards are another payment method that can be used for international payments. While traditionally, cards may not have the best reputation as in some cases, they come with high costs. However, for some issuers, such as SUNRATE, our commercial cards actually brings costs down for businesses as businesses get to enjoy cashbacks - read more about our commercial cards here. As a good habit, it is still essential to read the fine print and compare different cards to find the ones that offer the lowest fees and best exchange rates.
3. Consider timing
Timing is an essential factor to consider when looking to save on international payments as mentioned in point 1. The timing of a transaction can impact exchange rates and fees, potentially leading to significant cost savings.
Foreign exchange rates fluctuate constantly based on market conditions, geopolitical events, and economic factors. By monitoring exchange rates, individuals can save money on international payments. It is very important for payment service providers to offer foreign exchange rate alerts, which can notify businesses when exchange rates reach a desired level.
Peak times, such as holidays and weekends, may also impact the cost of international payments. During these times, transaction fees may be higher, and processing times may be longer. By avoiding peak times and scheduling transactions during weekdays or non-holiday periods, individuals can save on fees and reduce processing times.

4. Be aware of hidden fees.
Being aware of hidden fees is a crucial step in saving money on international payments. Many payment service providers may charge hidden fees that are not disclosed upfront, potentially leading to unexpected expenses.
Hidden fees can take various forms, such as intermediaries, currency conversion, collection, and processing fees. Some providers may also offer seemingly low transaction fees but then charge higher exchange rates, leading to additional costs.
To avoid hidden fees, it is essential to read the fine print and carefully review the terms and conditions of any financial institution or money transfer service before making a transaction. It is also important to compare multiple providers and ask for a breakdown of all fees involved in the transaction.
Using a trusted and reputable provider can also help to avoid hidden fees. Look for providers that are transparent about their fees and have a good reputation for customer service. Additionally, some providers lower fees for larger transactions, and even no fees in some business scenarios, so it is worth exploring different options.
5. Opting for larger transactions
Many payment service providers offer lower fees or more favourable exchange rates for larger transactions, making it a cost-effective option for individuals who need to transfer a significant amount of money.
When selecting a provider, it is important to compare the fees and foreign exchange rates for different transaction amounts. Some providers may offer lower fees or better exchange rates for transactions over a certain threshold, while others may charge a flat fee regardless of the transaction amount.
Another advantage of larger transactions is that they can reduce the number of transactions needed to complete a transaction, potentially leading to lower overall costs. By consolidating multiple smaller transactions into one larger transaction, businesses can save on fees and avoid paying additional processing fees for each transaction.
However, it is essential to balance cost savings with the risk of transferring a large amount of money. It is important to use a trusted and reputable provider and take appropriate precautions to ensure the security of the transaction.
What SUNRATE can do
SUNRATE is an intelligent global payment and treasury management platform for businesses worldwide. Since its inception in 2016, SUNRATE is recognised as a leading solution provider and has enabled companies to operate and scale both locally and globally in 150+ countries and regions with its cutting-edge proprietary platform, extensive global network, and robust APIs.
With SUNRATE, businesses can:
Make international payments to 150+ countries near instantaneously, with no hidden fees or exchange rate markups.

Make batch payment and pay up to 1000+ people in a single click and businesses can also pay businesses suppliers in one go, with low overseas transaction fees.

Use customisable verification models that come with enhanced security protection as all our transaction instructions and AOI transmission are highly encrypted.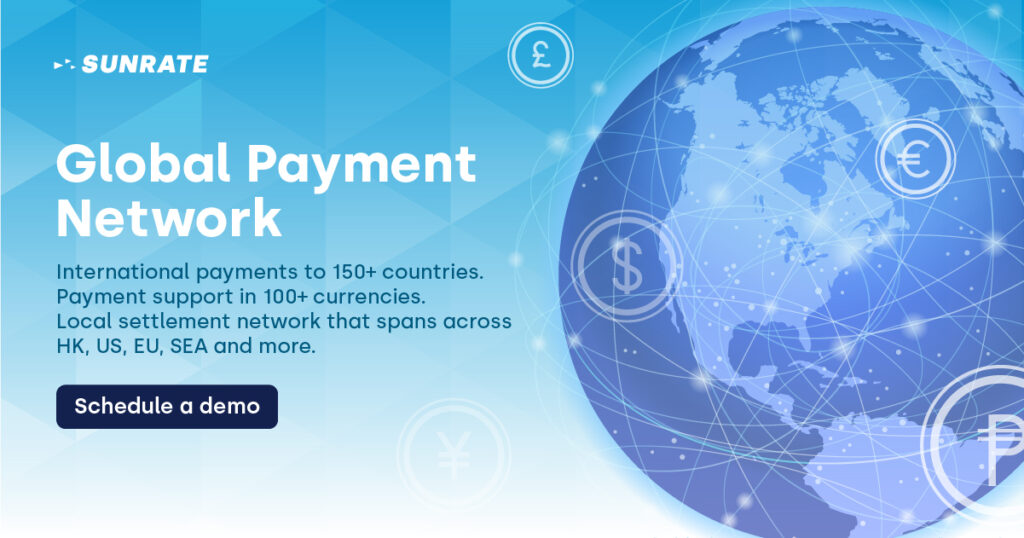 With its global headquarters in Singapore and offices in Hong Kong, Jarkarta, London and Shanghai, SUNRATE partners with the top global financial institutions, such as Citibank, Standard Chartered, Barclays, and is the principal member of both Mastercard and Visa. We are also licensed and regulated by the Financial Conduct Authority of the UK, the Bank Indonesia, the Hong Kong Customs, and the Monetary Authority of Singapore.