The B2B travel payments scene in India for travel stakeholders is rapidly evolving due to the growth of the travel industry and the increasing adoption of digital payments in the country. Travel companies in India typically use B2B payment solutions to pay their suppliers, such as airlines, hotels, and transportation companies. Many B2B payment solutions in India are digital and offer features such as online invoicing, payment tracking, and automatic reconciliation, which can help streamline the payment process for travel companies.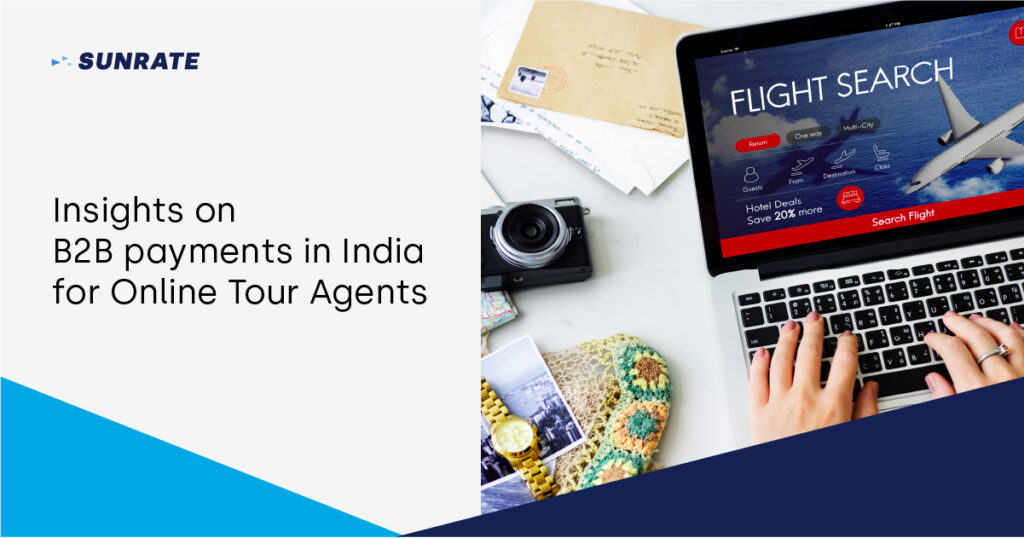 B2B Payments for Online Tour Agents (OTA)
OTAs in India typically use B2B payment solutions as mentioned above. There are several B2B payments solutions available for OTAs in India including payment gateways, digital wallets as well as commercial cards. Many of these solutions offer customisable payment options, such as scheduled payments, batch payments, and automated payment reminders, which can help online tour agents manage their cash flow more effectively.
As the broader travel payments scene in India is growing, there are still challenges to be addressed such as ensuring the security of digital payment systems and increasing financial inclusion for those who may not have access to traditional banking services.
Virtual cards for OTA
Virtual cards have been eagerly adopted into the architecture of the travel sector. In fact on the ground, majority of the travel sector stakeholders have come to the consensus that virtual cards will over time become a necessary form of payment.
Before a card is issued, a firm can set spend limits, define usage, and choose the vendor using a virtual card. This gives finance departments entire control over how spending are allocated and tracked. Additionally, the card can be automatically called off after the vendor has been paid to make sure that no one can obtain the card number, reuse it, or have the invoice paid for a higher sum than what was predetermined. As all transactions are electronic, this allows for real-time monitoring of charges and simple integration with accounting software. Real-time tracking of expenses lowers the likelihood of fraud and credit card abuse.
It is to be noted that the virtual card's security is a major feature; it was predicted that fraud losses would peak in the early 2020s estimating to exceed $25 billion. Web portals and APIs can be used to build virtual cards, giving users control over the expiration dates and approved amounts. It eliminates the possibility of card information being abused when given to a merchant while on a business trip by providing a limited window of use for a single card. 
The use of virtual cards reduces costs and offers peace of mind because there is less chance of fraud as a result of security measures. When compared to sluggish legacy systems, advanced OTAs are moving toward payment solutions that are simple, automated, and less expensive. A crucial element of this transformation are virtual travel cards, which have all the same requirements as physical cards but are produced electronically.
Virtual cards, which specialise in trip payments through automation, eliminate manual reconciliation, allowing finance departments more time and control while also enhancing business performance.
You can read more about how Virtual Cards revolutionise travel payments here
SUNRATE commercial cards and how it can enable the travel stakeholders
Choosing a leading provider in payment and treasury management helps you manage funds more clearly in a post-pandemic world. With unmatched control, visibility, and efficiency, SUNRATE's online travel solution offers a new, streamlined approach to travel payments.
With SUNRATE's online travel solutions, our commercial cards have proven their ability to innovate and provide peace of mind while processing travel payments:
Facilitate real-time and batch cards issuance using our platform and APIs;

Set your own card limits and expiration dates;

Use single and/or multiple cards with easy account reconciliation;

Support major global currencies including USD, EUR, GBP, AUD and many more.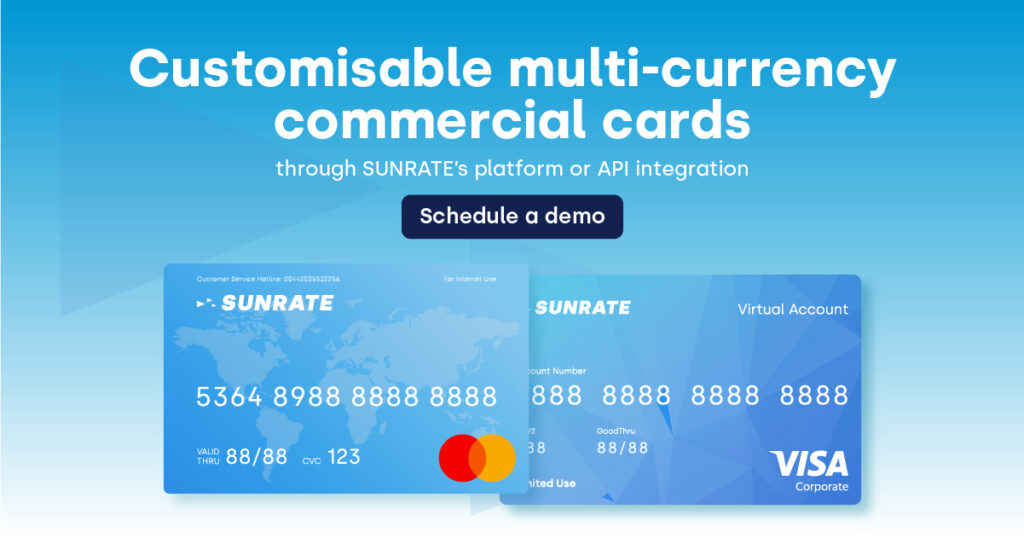 Important fact: SUNRATE is certified to the international financial data security standard: Payment Card Industry Data Security Standard (PCI DSS) Level 1 and we provide direct issuance to corporate clients and direct settlement via card schemes such as Mastercard and Visa network.
Find out more about how SUNRATE can revolutionise travel payments for you by speaking with our travel specialist today or you can find us at ITB India 2023 (exhibition booth E14), happening at Jio World Convention Centre, Mumbai, 26-28 April 2023.