In an increasingly globalised world, cross-border commerce has transformed into an inevitable aspect of business operations as businesses seek to access more efficient resources and expand their reach outside their home turf. However, with the increasingly intricate network of global value chains, the number of currencies that businesses must deal in have also increased, and with it, the complexity and costs of managing these currencies.
Such complexities have undeniably created additional costs for businesses. Disparate monetary policies and forex controls between countries make moving money across borders administratively difficult. Furthermore, traditional money transfer routes have not evolved fast enough to accommodate cross border trade, making B2B cross border payments expensive, slow, opaque and at times inaccessible.
SUNRATE has sought to alleviate such problems faced by B2B merchants through our intelligent global payment and treasury solutions. One such feature that has helped us fulfil this purpose has been our platform's multi-currency business accounts.
What is a multi-currency business account?
Multi-currency business accounts help businesses capture global opportunities by providing the ease of managing multiple currencies in a single platform. With licenses in the United Kingdom, Indonesia, Singapore,Hong Kong, USA, and Japan and partnerships with key financial institutions both regionally and internationally, SUNRATE's multi-currency business account improves businesses' accessibility to various currencies to suit their unique business needs.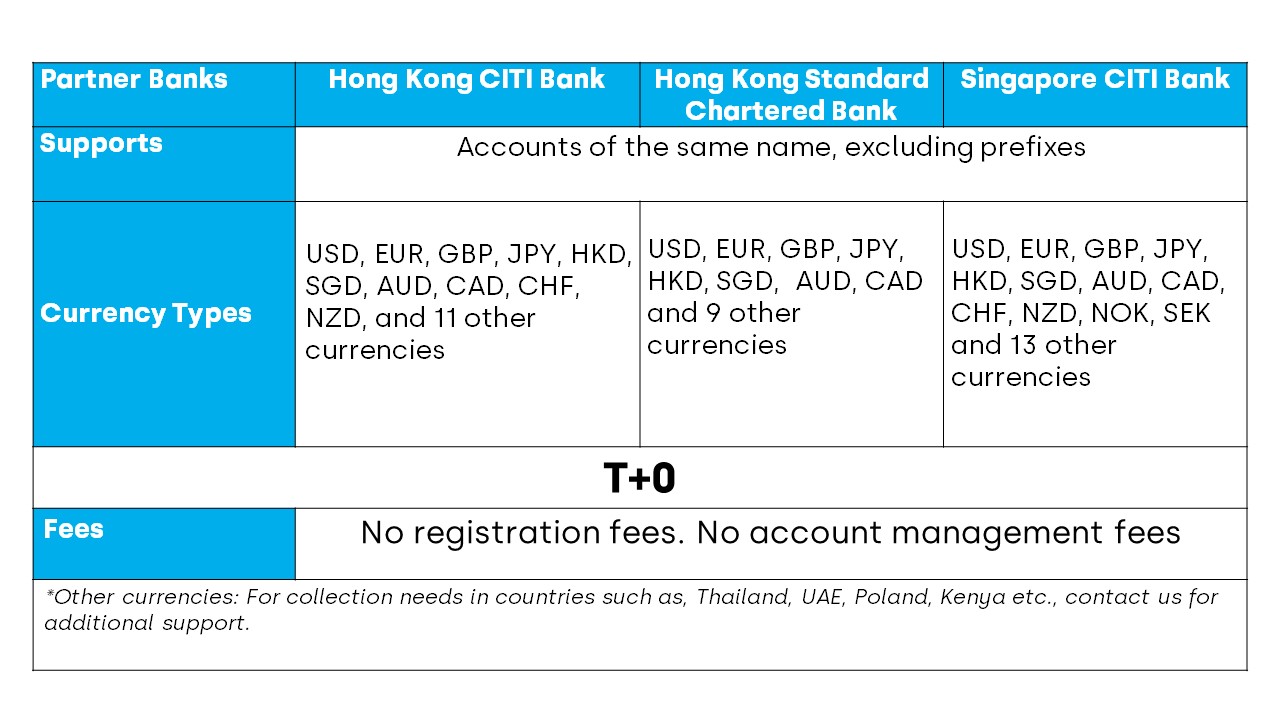 One Account, Multiple Currencies
SUNRATE's multi-currency business account allows you to manage multiple currencies within a single platform to suit your unique business needs. The account is designed for a broad range of B2B scenarios with a need for periodic payments and receipts in multiple currencies. From merchants selling on international marketplaces to B2B offerings that operate in multiple regions and currencies, a multi-currency business account can help businesses streamline their cross-border transactions and reduce costs associated with managing multiple accounts. 
High Flexibility, Low Costs
As businesses encounter increasingly complex business scenarios, SUNRATE's multi-currency business account can provide the flexibility needed to manage payments across different currencies. Doing business globally can be costly and challenging, especially with the opacity of traditional banking systems. International transfer costs can drive down profit margins as a result of exchange rates, bank fees, correspondent fees and other associated hidden fees. SUNRATE's multi-currency business account affords you the flexibility of conducting transactions in the currency of your choice to suit your needs. From payment to collection, businesses can conduct their full transactional activities in their desired currency and can save on unnecessary FX conversion costs from offsetting flows in the same currency, allowing them to pay and receive like a local. The best part, there are no registration fees or account management fees for SUNRATE accounts.
FX Conversion
SUNRATE's multi-currency business account is further enhanced by our strong FX capabilities to help supercharge B2B cross-border needs. With the capability to support over in 100+ currencies and 130+ countries and regions, SUNRATE can provide transparent conversion services to suit a wide range of business scenarios. By allowing users to view a quotation of the real-time exchange rate before executing payment, users are provided with a transparent breakdown of the currency conversion and processing fees. If satisfied, users can lock the FX quote for both real time and deferred payment, ensuring the precise amount settles to the beneficiary account. This provides more certainty to users and allows them to operate more confidently in the international marketplace, all from a single platform.
By offering access to over 150+ countries, SUNRATE is dedicated to offering intelligent global payment and treasury solutions for business clients, of which our multi-currency business account is but one feature. As strategic partners of top banks and as a principal member of Mastercard and Visa network, SUNRATE strives to provide a one-stop digital service for global businesses. If you are interested in learning more about our products or exploring partnership opportunities, please drop us an email at marketing@sunrate.com.