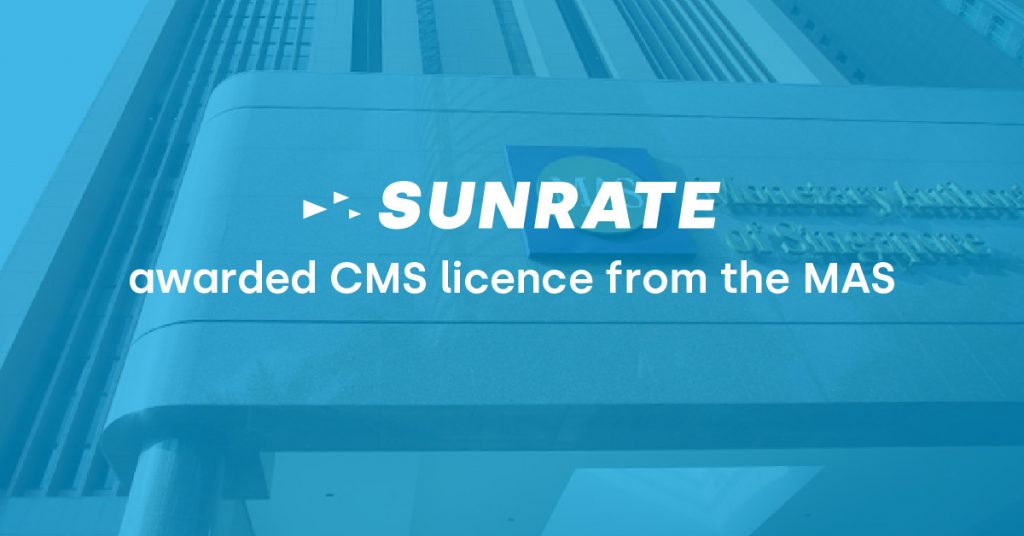 SUNRATE, the intelligent global payment and treasury management platform announced today that it has successfully obtained the Capital Markets Services ("CMS") licence from the Monetary Authority of Singapore ("MAS"), and cementing its global headquarters firmly in Singapore.
With nearly a decade of cross-border B2B payment and treasury management experience, SUNRATE will add to its cutting-edge products and services by offering over-the-counter ("OTC") derivatives contracts.
Mr Joshua Bao, co-founder at SUNRATE said, "This is an important milestone for SUNRATE and we are pleased to offer these additional financial products and services to our valued clients. We will continue to innovate, meet changing customer needs, and remain committed to being the go-to B2B payment and treasury management platform, especially for emerging markets. We are confident that with the CMS license, SUNRATE will be able to push the envelope and deliver even more value and customer-centric services for all our clients."
SUNRATE is one of the few companies in Singapore which also holds MAS' licence as a Major Payment Institution (MPI) for Account Issuance Service, Domestic Money Transfer Service, Cross-border Money Transfer Service, Merchant Acquisition Service, and E-money Issuance Service, on top of the CMS licence. Its dual licence status attests to its strong compliance and governance framework, credentials and competencies, as well as know-how, while increasing our capabilities in the area of B2B payments and treasury management.
Mr Yumi Zhang, Head of FX solutions at SUNRATE said, "The current global economic volatility cuts across both frontier and emerging markets with many facing risks of recession this year. The CMS licence is timely as it allows us to work with our clients on applying various strategies to hedge and protect against any market volatility. Together with our Major Payment Institution licence, SUNRATE is poised to fulfil the evolving business needed going forward."
About SUNRATE
SUNRATE is an intelligent global payment and treasury management platform for businesses worldwide. Since its inception in 2016, SUNRATE is recognised as a leading solution provider and has enabled companies to operate and scale both locally and globally in 190+ countries and regions with its cutting-edge proprietary platform, extensive global network, and robust APIs. With its global headquarters in Singapore and offices in Hong Kong, Jakarta, London and Shanghai, SUNRATE partners with the top global financial institutions, such as Citibank, Standard Chartered, Barclays and is the principal member of both Mastercard and Visa. To learn more about SUNRATE, visit https://www.sunrate.com/